Scaphandre et le papillon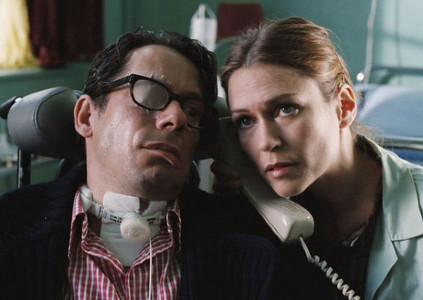 its been a while since i watched a movie that i really loved.
This one
was just amazing. It's very sad, but no one ever sees the world through the eye of the disabled. Watching it just made me thank God for all the things we take foregranted. Highly,
highly
recommended.
The french was also a treat to my ears. I just love that language.
The Diving Bell and the Butterfly is an four-time Academy Award nominated 2007 film directed by painter-director Julian Schnabel and written by Ronald Harwood. It is based on the French memoir Le Scaphandre et le Papillon by Jean-Dominique Bauby.

The film describes Bauby's life after suffering a massive stroke at the age of 43, which left him with a condition known as locked-in syndrome. The condition paralyzed him; his only remaining means of communication was the blinking of his left eyelid. The film premiered in competition at the 2007 Cannes Film Festival on May 22, where Schnabel won, two weeks later, the Award for Best Director. Schnabel also won Best Director at the 65th Golden Globe Awards, where the film won Best Foreign Language Film.

Labels: movies